If you're feeling a little nostalgic for autumnal scents and flavors, then you'll love these hair colors inspired by the season.
The difference between highlights and balayage
We offer balayage and foil highlights. They are slightly different techniques with subtly different results. Compare our photos to see the difference.
Do Hair Extensions Work On Short Hair?
Hair Extensions totally work on short hair! At Monaco Salon in Tampa, that's where our expertise really shines. We know how to apply hair extensions to short hair and have access to a wide variety of types, textures and colors to make your hair look amazing!
Red Hair Color: The Best Shades
With so many shades of red, the possibilities are endless. From Copper to Ruby Red, let the red hair experts find the perfect shade for you.
Styling tips for fine or thin hair
Not everyone is born with a full head of thick hair, but with the right style, your baby fine or thinning hair can look plush and full.
Follow these tips and advice on proper hair extensions care, and your extensions will look great and stay in place for as long as possible.
Check out these fall and winter hairstyle trends. Hint: length gets shorter as the hair color warms up.
Hair Tips for Humid Weather
At Monaco Hair Salon in Tampa, we would like to share some hair tips for hot humid weather ….. It is possible to love your hair in our tropical climate. Get your hair to behave with these pro hair tips.
Summer is all about making a statement and being seen. Have fun with these looks!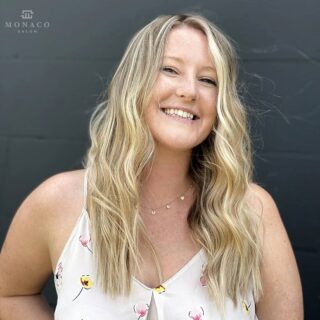 Spring hair styles for 2015 are filled with fresh new takes on old classics with shorter lengths and lighter colors. From bobs and lobs to the pixie, we love the the messy undone looks and air dried textures.
Our Hand Tied Extensions vs Natural Beaded Rows (NBR)
We are often asked about the difference between Monaco extensions and NBR. While our hand tied methods are similar, the size of our wefts and beads are unique.
Vanilla Macchiato Hair Color and More
We are passionate about hair color as well as the season's tasty caffeinated drinks! Check out our Monaco Salon Guests showing off their hair color inspired by vanilla macchiato, iced caramel macchiato, mocha latte and unicorn hair. Which one are you craving?
Trend Alert: Medium Length Hairstyles
Medium length hair is super flexible. Subtle layers or bangs can keep the look modern, and with the right hair color, you are guaranteed to sizzle. Check out our before and after pics.
Hair Color Trend: Oil Slick
Iridescent Hair Color! A Hair Color Trend that Brunettes Can Embrace! If you are a brunette, you may have felt left out by the pastel hair color trend, where blonds were having all the fun with shades of pink and blue...
Monaco Salon featured in South Tampa Magazine!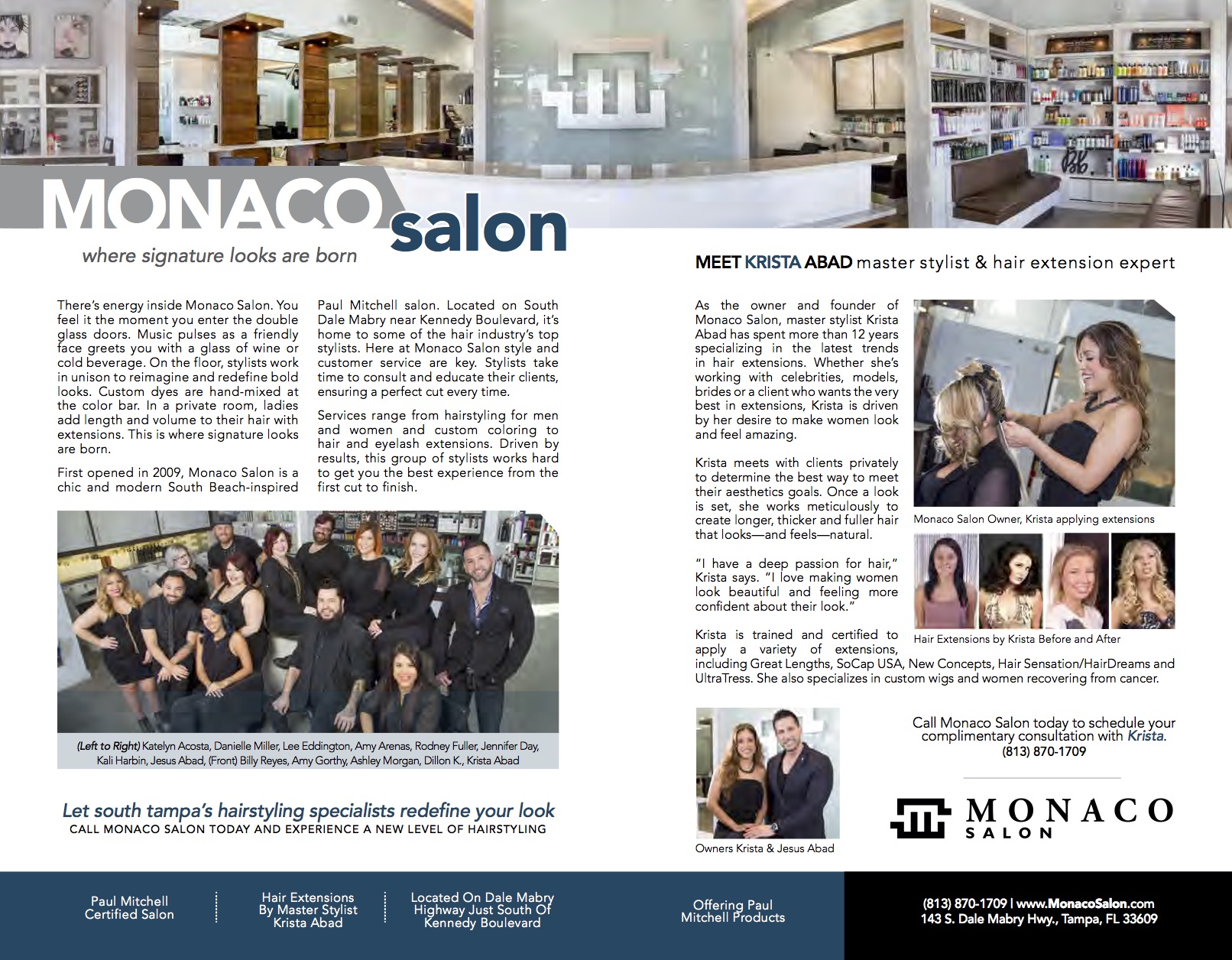 Monaco Salon is proud to be featured in South Tampa Magazine! Our dedication to excellence in service and customer care has allowed our salon to continue to thrive and make a serious impact in the salon world...
Monaco Salon Receives 2015 Best of Tampa Award
Monaco Salon has been selected for the 2015 Best of Tampa Award in the Beauty Salon category by the Tampa Award Program.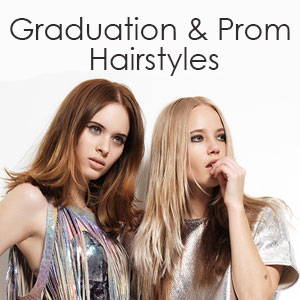 Prom hair styles for 2015 are from sleek and structured all the way to loose and undone. Be sure to consider how your hair will accent or cover your dress.
Modern Shag: Get the Look!
This sassy cut is making its way into salons across the country and for good reason! This cut looks fabulous on just about every face shape and hair texture. It lets you keep a lot of length and versatility while enjoying the ease of a shorter cut.
Short hairstyles are filling the runways and magazines, and women everywhere are wondering if a short hair style is right for them. Check out a few of the latest looks and see for yourself.
Moroccan Oil vs Argan Oil…are they good for my hair?
Argan Oil and Moroccan Oil are both popular terms that we see when reading about hair care ingredients. Even though they sound like different ingredients, they are actually two names used for the same ingredient
Hair Breakage: How to prevent and repair it.
Hair breakage is essentially caused by dryness. Hair can be naturally dry, or can become dry as we age. Sun exposure, heat styling and chemical treatments can all dry hair out and lead to hair breakage. Unless we put that moisture back into our hair, our hair will look dull and will break easily.