Professional Tricks and Styling Tips for Thinning Hair
If you have fine or thinning hair, you know the daily struggle to create body and volume. That is why we are here to share a few styling tips and tricks that will give your thinning hair the look of full and gorgeous tresses!
These tricks are sure to give your fine or thinning hair some guts.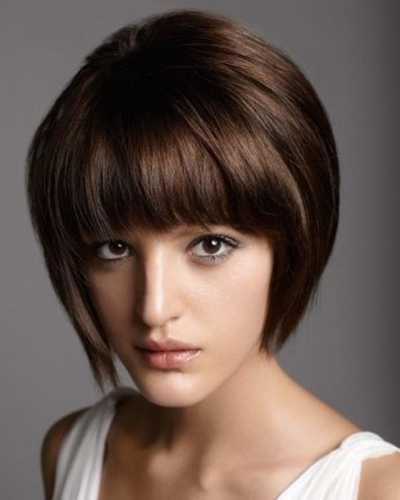 The right cut for thinning hair
Boosting volume in fine or thinning hair starts with the right cut. The goal is to keep your hair from looking too sparse or stringy at the ends. Talk to your stylist about a flattering cut for your face shape that can help camouflage any trouble spots. Color can also play a roll in boosting volume. Highlights, and color that uses a lightener, will actually "rough up" the hair cuticle which creates a little volume. Ask your stylist if highlights are right for your hair.
You may also want to consider a shorter cut, which will allow your hair to look fuller than it actually is by taking weight off of the ends. Avoid styling your hair with a straight part down the middle. Try a zig-zag part or bangs, which will add volume and help conceal a wide-looking part.
Care for Thinning Hair
Use a gentle touch when washing and drying your hair. Comb out wet hair gently, with a wide tooth comb instead of a bristle brush. And absorb as much water as possible with a thirsty microfiber towel…no twisting and rubbing. Less moisture means less time under the dryer. You'll want to minimize heat styling to keep hair from drying out and breaking off.
Styling tips for thinning hair
When it comes to styling products for fine or thinning hair, the last thing you'll want to do is weigh hair down. So look for lightweight products, and avoid products containing oil or silicone. Popular ingredients like Argan oil or Moroccan oil are beneficial for dry hair, but may cause fine or thinning hair to look limp.
When hair is wet, add a thickening serum and blow dry hair with a round brush. Adding some wave to the hair during your blowout, or even with a curling iron on a low/medium setting, will add visual volume to the hair. If your hair is dry and in need of a boost, Dry Shampoo will be your best friend. A gal with fine or thinning hair can see so many benefits from dry shampoo. Aside from allowing you to go days without washing your hair, dry shampoo makes the hair appear thicker! Just spray a little at your roots and massage into hair before styling.
Hair Extensions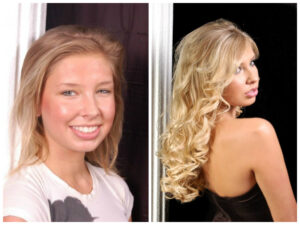 Depending on the condition of your hair, hair extensions could be an option. Adding hair extensions are a great way to add instant volume that lasts for weeks or months. Although this option can be expensive, the price can be well worth it if you are looking for a non-medical solution for fine or thinning hair. From clip-ins to fusions, hair extensions are a great way to boost your confidence and give you that extra hair! (This before and after pic is from an actual Monaco Salon client.)
For more on hair extension services in Tampa, take a look at our hair extensions at Monaco Hair Salon.
At Monaco Salon, we know a lot about fine and thinning hair and know how to keep you looking your best. We would love to sit down with you and design the right hair style for your fine or thinning hair. Our professionals can meet with you privately, and offer advice on how to achieve more volume and fullness with the right hair style, styling techniques and products.
Trust your hair to Monaco Salon, the best hair salon for
thinning hair in Tampa

!