Monaco Salon is proud to be featured in South Tampa Magazine!
Our dedication to excellence in service and customer care has allowed our salon to continue to thrive and make a serious impact in the salon world. We offer more than just professional salon services, our dedication to innovation and education has enabled our salon to truly pave the way when it comes to luxury and beauty in Tampa.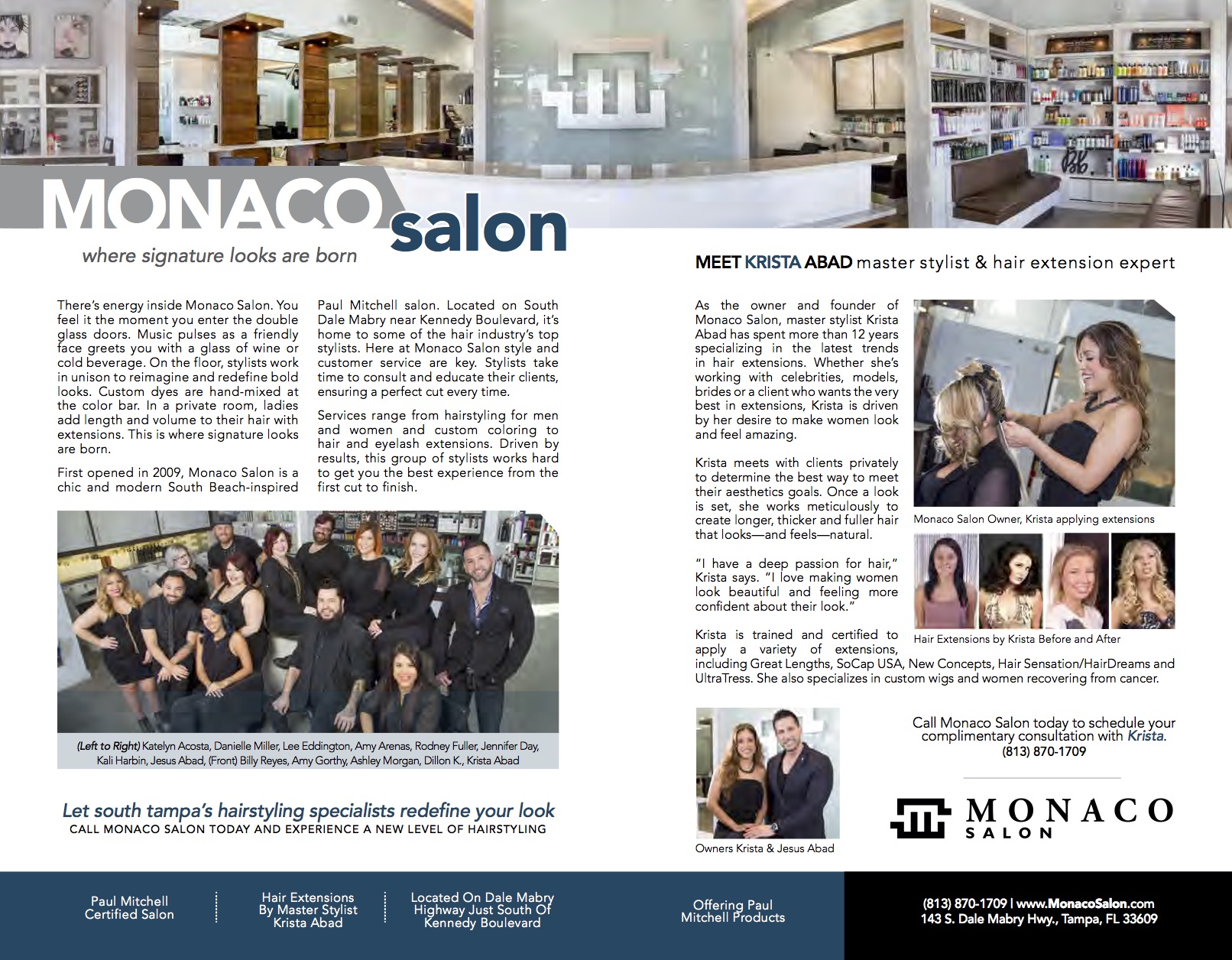 "There's energy inside Monaco Salon. You feel it the moment you enter the double glass doors. Music pulses as a friendly face greets you with a glass of wine or cold beverage. On the floor, stylists work in unison to reimagine and redefine bold looks. Custom dyes are hand-mixed at the color bar. In a private room, ladies add length and volume to their hair with extensions. This is where signature looks are born."
South Tampa Magazine Article Highlights:
From the moment you step into our salon, you will feel like you are in good hands. Our team is not only dedicated, but also attentive, innovative, and hard-working. Going above and beyond to ensure each client leaves our salon feeling confident and beautiful is important to us, and it shows in the work we do. If you are one of our many frequent clients, check us out in South Tampa Magazine and read about how we have been making a splash in the salon community. If you have yet to experience Monaco Salon, we encourage you to read the article and get inspired to come and see us. We can help you transform your look and by breathing new life into your hair and style!
Start by coming to see master stylist Krista Abad!
"She has spent more than 12 years specializing in the latest trends in hair extensions. Whether she's working with celebrities, models, brides or a client who wants the very best in extensions, Krista is driven by her desire to make women look and feel amazing.

Krista meets with clients privately to determine the best way to meet their aesthetics goals. Once a look is set, she works meticulously to create longer, thicker and fuller hair that looks—and feels—natural."
You deserve the best, and that is why for all your hair styling needs, choosing Monaco Salon in Tampa is a first class move! To schedule your reservation call (813) 870-1709.