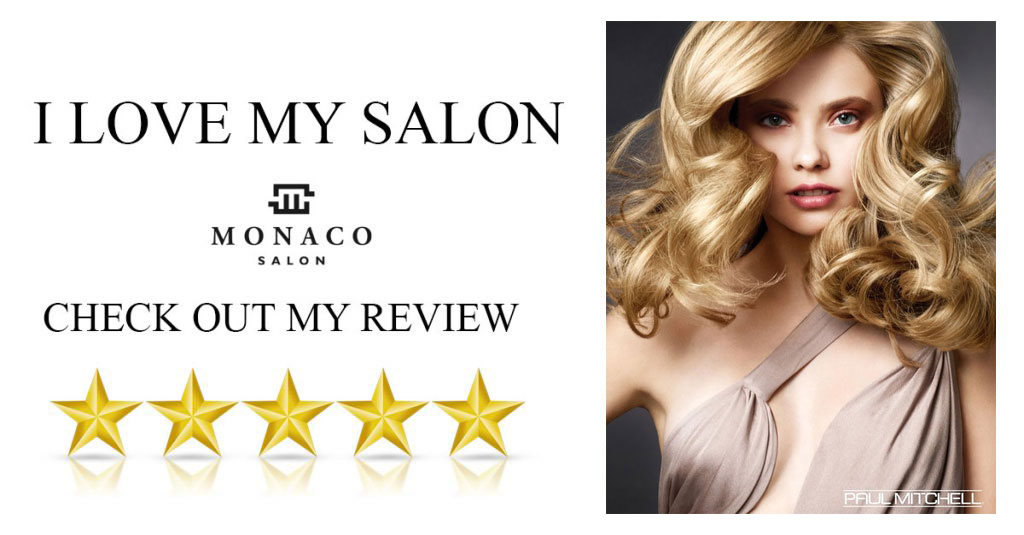 Leave a Review for Monaco Salon Tampa

Your review will appear below and, with your permission, on your own Facebook page along with the image like the one above.
To read even more reviews from Monaco Guests, visit our Read Salon Reviews page.

30
reviews with an average rating of
5.0
I am new to the area and with so many salons to choose from I was skeptical that I would find one that I would like. I am very picky about my hair and I have had some bad experiences in the past. I did as much research as I could and liked the reviews from Monaco. I was not let down! Billy was great and made me feel very welcome. I love the color and cut! Billy was able to match my hair color to the one I wanted. I will be back and telling my family and friends about Monanco. Thank you Billy for doing such a wonderful job!
Inloventhebsalon. Bright, happy, clean, awesome music and the customer service is fantastic. Iove the text appt reminders and of course Dillon is the best! Every experience is wonderful!
I have been going to Billy for about two years now. I will honestly prior to having him to my hair I wasn't able to find a stylist that I really like. I must say great customer service and he is a great (experienced) stylist. I highly recommend trying this salon.
Katie is a genius with short hair. I had a great experience and will be back!
I had the best experience and loved what Katie did with my hair. She was very kind as well!!
Love your bumble & bumble product!
I've been coming to Amy for a few years now and she is by far the best thing that's ever happened to my hair! My hair is fine but very thick and naturally a dark blonde. Amy METICULOUSLY highlights my hair and her precision pays off every time. Every time I leave it's always with a smile on my face! She does a fantastic job of listening to exactly what you want and offers guidance on how realistic your expectations are with your particular hair. Never any surprises! Her highlight is on point and her cuts and styling are equally wonderful. A phenomenal hairdresser paired with great combo, Amy is the best! 🙂
Had my usual stylist cancel on me and made an emergency last min appointment. Friendly service and extremely accommodating 🙂 Amy A. Made my special night one to remember! 5 stars to Monaco and 10 to Amy!
I will definitely recommend it to other people and I would go back again.
Being new to Tampa it was hard to pick a new salon. It can also be a little scary trusting someone new with your hair. I highly recommend this salon.
I had a good time getting my hair done. I haven't done anything for myself for a long time and you all made me feel very comfortable and made me look beautiful. Thanks so much. I will be back for sure.
Christian did an excellent job. He listened to what I wanted and added his ideas and I love the cut and style.
I was very happy with the service they provided (cut, color and blowdry) and will be back.
The BEST hair-cut I have every experienced..and I'm 31years old! I LOVE Kevin- he was amazing- love the cut and all his expertise- this will be my new salon for sure! I have had a bad groupon experience with another salon several month back so I was skeptical, but I would highly recommend this salon to everyone!
People at reception were friendly and welcoming. Alex is an amazingly talented haircutter. She asked the right questions and gave me a hairstyle I didn't even know that I wanted, but that I love. Possibly one of the best cuts I've ever had. I am thrilled with the results!
My hair stylist was great! It is a very nice salon. Loved my experience there.
The time Billy spent with me was great. I also added on more services for extra charge, and he was meticulous. One of the services I paid for additionally was a keratin treatment, which was on special. They include a follow up wash and style when it's time to wash it for the first time, at which time he will fine tune the cut. They pay great attention to the customer and to detail.
I just loved the attention and professionalism that my stylist Candy provided me. I just love her work and how much better I felt about my look when she was finished with my hair. She had very good recommendations and did such a wonderful job, especially being familiar with naturally curly hair and the great job she did on my hair. I would most definitly recommend her and your salon to my family and friends. I have already booked an appt. with her for my next visit.The staff there were very friendly and that means alot!
Such a great place! Loved the stylists, attitudes and overall atmosphere. Not overly pricey but gives you the feel of a top expensive salon. Spoke one on one with my stylist before my haircut and treatment so she could get to know my hair and details of what I want. I Highly recommend the great people at Monaco salon and will continue to go back! Already booked
Thank you for offering this Groupon and allowing me to have such a great experience. It was so nice to leave a salon not disliking the entire experience. I love the color and cut that Billy gave and look forward to my next appointment.