Bridal Hairstyles for your Tampa Wedding

We specialize in making your wedding day the most glamorous day of your life. Let Monaco Salon make your day extra special by creating the perfect hair for you and your wedding party. We love to do updos, half updos, hairstyles with braids...you name it. We can create wedding hairstyles and bridal looks both with and without hair extensions.
Every bride dreams of how she'll look on her wedding day. Choosing the perfect look is easier said than done. With so many choices for wedding hairstyles, how can a bride just pick one? A bride has to consider a hairstyle that will look great on her, will look great in photos, will match the wedding dress and yet be a style that will be able to last the entire day. So which of the wedding hairstyles is best for you?
Let one of our friendly artists at our Tampa Hair Salon advise you on the perfect, most stunning hairstyle for your big day. Why not book a wedding hair trial before your big day so that you know exactly how your hair will look on your big day. The cameras will be flashing! Your wedding hair will complete your gown and you'll look and feel beautiful for the most important day in your life.
Long Wedding Hairstyles & Bridal Upstyles
The classic updo is the most common of all the wedding hairstyles. However, some women feel like it's too traditional and there are some updo styles that are overdone. Talk to your hairdresser about your updo options as there are so many styles to choose from nowadays. The best thing about the updo is that it holds its shape all day and looks great in photos. The only worry with updos is that it can look boring in the front and tends to be heavy for people with thick and long hair. You may want to consider a half-upstyle.
Half Upstyles for the Bride's Hair
With half updo bridal hair, you get the best of both worlds. You get to secure half of your hair with pins and then keep half of the hair loose. If you're not comfortable with all hair down nor the complete updo, then you should feel more comfortable with the half updo. But, be sure that this style looks great on you. Some women's faces look bigger with this style.
Wear Your Hair Down for Your Wedding
Having all hair down is a gorgeous wedding hairstyle option especially if you have long hair. It's very comfortable and not heavy at all. However, having your hair down is risky because it's nearly impossible to keep its shape and form. Be prepared for lots of setting spray and touch ups throughout the day.
Short Wedding Hair Styles
There are lots of options for short wedding hair styles from a short bob to a cute pixie hairstyle that will not only enhance your facial features but will keep the emphasis on your bridal gown. Wear a pretty hair accessory, flowers or a sparkly tiara for a fairy-tale finish. Bring along your hair accessories to Monaco Hair Salon so that your bridal professional can create the exact look you desire, creating stunning short wedding day hair. Short hair brides could also consider hair extensions if you are looking for a longer bridal hairstyle. Learn about our hair extensions services at Monaco Hair Salon.
Medium Length Wedding Hairstyles
Whether you want to wear your hair up in a classic twisted knot or a bridal upstyle there are many options for mid length or medium length wedding hair. To keep the ends of your hair in optimum condition book in for regular hair maintenance appointments in the run up to your wedding day. Book in for a consultation so that we can make your wedding day hair perfect for you.The choices for wedding hair and bridal party hair are endless and at Monaco Hair Salon our hair artists can help you and the rest of your wedding party create the perfect wedding day hairstyles to help make the most important day of your life simply perfect!
The Cost of Wedding Hairstyles
See our price list at for current bridal upstyle rates at Monaco Hair Salon.
Packages for Wedding Hair
Bridal packages are available for you and your wedding party. Please speak to one of our friendly professionals for advice on the right package for you.
Save the Date!
For your wedding day hair reservation for you or any of your wedding party give our hair salon in Tampa a call on (813) 870-1709.
Beautiful Wedding Hair in the Tampa St Pete Area
Tampa Florida
Clearwater
St. Petersburg
St. Pete
Largo
Brandon
Orlando
Palma Ceia
Lakeland
Spring Hill
Wesley Chapel FL
Hyde Park FL
Downtown Tampa
Channelside Tampa
Hair Color Tips For The Bride from the Experts at Monaco Salon in Tampa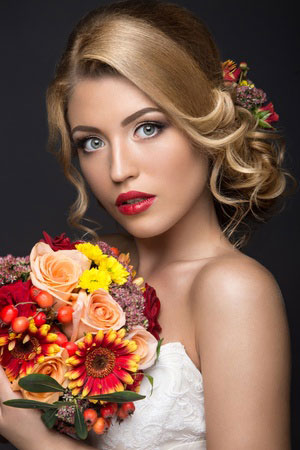 Wedding day prep begins months in advance. Some brides start planning a year in advance if they can. Your bridal hairstyle requires plenty of planning, especially if you are planning to grow out your current style. Planning your hair color for the big day is also important.
Plan Your Bridal Hair Color
If you are planning to lighten or add highlights to your bridal hair style, you'll want to strike the right balance between being "bright enough" and looking awesome on your honeymoon without looking washed out in flash photography.
Here are some tips from our team of bridal hair color specialists in Tampa to ensure that your hair is ready for the cameras on your wedding day.
1. Consult your hair color specialist at least three month before the wedding. Ideally, you'll have a couple appointments to finalize how you will wear your bridal hair and what kind of hair color you want.
2. Bring your veil and hair accessories in the consultation. Certain bridal hair styles require a few strategically placed highlights to catch the light and highlight your face. Knowing what your veil looks like will help you hair color specialist tweak the color so those things really stand out.
3. Get your hair color or highlights done at least a week before the wedding. Hair color and highlights look best after the color adheres to the hair.
4. Wait at least two days after your hair color service before shampooing. You want to give hair color time to settle before washing it. Make sure that you use a shampoo that is safe for color-treated hair.
5. Lastly, keep your hair well conditioned. Healthy, moisturized hair really makes highlights and hair color shine. Be sure to pack sulfate free shampoo and deep conditioner for your honeymoon.
Armed with these tips, you are ready to face the world and be the center of attention on your wedding day. Call Monaco Salon in Tampa to schedule a bridal hair consultation or trial run for your wedding day.