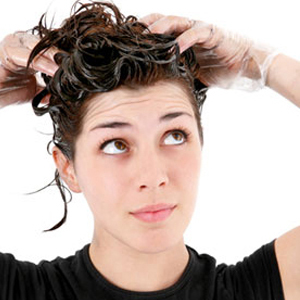 Everyone wants to know the best way to cover up roots. We have all been there, in between highlights or color reservations and your roots are starting to show. What's a girl to do?
There are a few ways to manage your regrowth and cover up roots so that you can stay looking fabulous without that freshly colored feel. Rather than getting a root touch up or getting hair completely re-colored every few weeks here are some alternatives.
Before a root touch up, cover up roots with a few styling tips…
There is nothing worse than using a shampoo that drains the color right out of your hair. That is why choosing products designed to keep your color strong is an essential first step in slowing down the inevitable regrowth. Pick a shampoo that is formulated for colored hair to avoid harsh detergents that can strip color away. You'll extend the life of your hair color. Use a moisturizing conditioner and a protective thermal spray for heat styling. By locking in moisture, you'll lock in color as well!
Add volume to cover up roots. If you are trying to hide darker regrowth, use volume to mask the appearance of un-dyed hair. Your blow dryer and hair products are your best allies. Use a round brush and amplifying products to give your tresses the boost they need. If you part your hair, experiment with placement or a zig-zag part to help you cover up roots and blur the line of regrowth.
New Techniques to Cover Up Roots

Rather than trying to cover up roots, go with a style that requires less maintenance than foil highlights or full head color. There are some hair color techniques that are more forgiving when it comes to the visibility of new growth. Ask your stylist about Balayage and Ombre, two free hand techniques which allow a lot of creativity with color.
Cover up roots with a mini-service
Just "break the base" for an intermediate fix. "Breaking the base" or "base adjustment" are terms for a quick lightening of the new hair growth. The goal of a base adjustment is simply to diffuse the look of the regrowth and to give the guest's look a refresh. Essentially you are 'breaking up' the darker color and softening the line of demarcation. A base adjustment is easier to execute than a full color session, making it ideal to add on to a hair cut or blowout. Why just cover up roots when you can soften them.
Here at Monaco Salon in Tampa we offer the best hair coloring services around. If your hair color needs a quick pick-me-up, or you just want to cover up roots, ask your stylist about a base adjustment or a root touch-up. It's an affordable way to keep your color fresh in between your regular reservations. We can even give you some styling tricks to try as your hair grows out, and tell you which products are best to maintain that beautiful color.