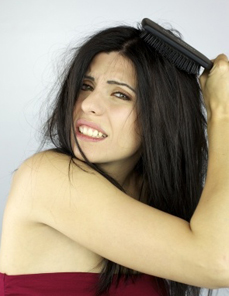 Hair Breakage Happens
It's bad enough that we naturally shed up to a hundred strands of hair each day. We certainly don't want to give up any more to hair breakage. Hair breakage is essentially caused by dryness. Hair can be naturally dry, or can become dry as we age. Sun exposure, heat styling and chemical treatments can all dry hair out and lead to hair breakage. Unless we put that moisture back into our hair, our hair will look dull and will break easily.
This struggle with hair breakage is very real for many of us; however, these tips will help you minimize the damage.
Battle Hair Breakage
Moisturize frequently. Adequately conditioning your hair with each washing will actually fight the effects of breakage. And by applying a deep conditioner at least twice a week in the shower will further moisturize your hair. Before styling, use an anti-frizz serum and a wide tooth comb to gently detangle and avoid hair breakage.
Air Dry. Let your hair dry naturally and spare your tresses the high heat. If a blow-dry is a must, let hair air dry until slightly damp, which will cut down on the time under the dryer.
Try an Updo. Take a break from all the fuss. To give damaged hair a break, try a casual ponytail or a fun updo. Avoiding the straightening iron for as long as possible can only help you. Remember, keep it loose to avoid hair breakage from too much tension.
Seek Professional Help

Try an in-salon treatment to reduce hair breakage and boost shine. Paul Mitchell KeraTriplex with Awapuhi Wild Ginger is a 2-step treatment that is sure to work wonders. Keratin protein is absorbed into the hair, and reinforces weak areas to reverse breakage. Fix years of damage in one visit.
Reduces breakage by 80%
Boost shine by 35%
Prevents color fade by 67%
If you have damaged or thinning hair due to hair breakage, come see the experts at Monaco Salon. We offer the Paul Mitchell KeraTriplex service starting at only $40. We can help you restore your hair to good health, and suggest hair cut and styling techniques to help you look great throughout the transition. That's why our guests refer to Monaco Salon as the best hair salon in Tampa.