Finishing your hairstyle with the perfect color just got a little easier with help from our hair artists at Monaco Salon. Choose your look at the Color Bar at Monaco Salon, a Paul Mitchell Hair Salon in Tampa.
---
Legally Blonde
Show the world you know how to work it! Be the blonde you've always admired.
Get your favorite beachy blonde hair color with the Paul Mitchell blonding system.

---
Sneaky Peaky
Teasy highlights add depth and dimension to any hair color.
It's a great way to try a new color and take a sneak-peak at the new you.

---
BombShell Brunette
Brown is known as the intelligent color with an expensive attitude.
Make it rich, chocolaty, velvety and delicious. How do you want it?

---
Lunchtime Hair Color
Brilliant shine and amazing condition are yours with this 20-minute color service that gets you in-and-out of the salon on your lunch hour.

---
Guy Lights
Hair color has no gender, so forget the highlights and get some guy lights.
This simple service adds depth and dimension to any style and color.

---
Reds Turn Heads
There's no doubt about it – red hair makes a statement.
What will yours say today? Nicole Kidman, Julianne Moore, Lucille Ball.

---
Clear Shine Top
No color, just pure hydration and tons of incredible shine for up to six weeks.
It's also a great way to extend the life of your hair color.

---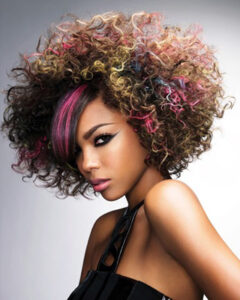 Tickle Me Ink
This ain't your momma's hair color! Make it scream red, be pink for the day or sport a rainbow of color.
Featuring inkworks – Paul Mitchell's semi-permanent hair color – not for the faint-hearted!

---
Flash Back Hair Color
Bring back the younger years. Featuring: flash back color. Exclusive for men!

---
Block Color
3 tones equal movement & balance. Standout from the crowd or whisper softly. Ask us how!

---