Go from Drab to Fab at Monaco Hair Extensions Salon in Tampa.
Do you dream of longer, thicker, fuller hair?
If you are ready for a total hair transformation, consider hair extensions! Introduce more length and volume to your hair and you'll change your look - and your confidence level - completely! Hair extensions come in a wide range of colors and textures (even curly hair extensions) so there really are no limitations when it comes creating your perfect style. And because hair extensions look so completely natural, no one should be able to tell you are wearing them.
FREE Hair Extensions Consultation
At Monaco Salon, we offer a complimentary consultation so that you can talk to one of our artists about the look you want. We'll answer all of your questions, evaluate the condition of your hair, and determine the best type of extensions to suit your look, your style and your budget. We will color match your hair or order a special shade for you if necessary. We'll design that "Star Look" that fits your face, accentuates the eyes and compliments your skin tone.  Free Hair Extensions Consultation.
Hair extensions can make you look and feel fabulous. If you have a wedding to look forward to, a special event or simply want to introduce some volume to your hair, you have come to the right place!  Monaco Hair Extensions are the best way to change your look quickly and easily. Whether you are looking for a radical transformation or just thicker hair, our experts can work closely with you to help achieve what you want.  At our Tampa Hair Extensions Salon, our certified specialists have over 8 years of experience, and will offer suggestions on styles and methods that are ideally suited to you.
Hair Extensions are incredibly popular and are extremely versatile. They come in such a wide range of colors and textures (even curly hair extensions) that there really are no limitations when it comes to your style. Hair Extensions look so completely natural that no-one should be able to tell you are wearing them, instead assuming your great new style is due to a fabulous cut or top-of-the-range products. In fact, the popularity of human hair extensions has grown to such an extent that many celebrities are rarely seen without them.
What Makes Monaco Salon's Hair Extensions Different?
You'll get the best hair extensions at Monaco!  At Monaco Hair Salon, we don't believe in off-the-rack, cookie-cutter Hair Extensions. Our custom designed Couture Hair Extensions are as unique as you are. We offer a wide variety of types of extensions, as well as many different application methods. During your complimentary consultation, we will determine the right extension for your lifestyle.
100% human hair, they can be styled any way
You get a one-of-a-kind solution, customized for your needs
Your extensions are matched to a sample of your own hair, so the color, texture and wave pattern blend perfectly
Your hair is cut and styled along with your extensions to ensure seamless integration
Available in straight, wavy or curly
No Damage to your hair
Lasts 4 to 6 months
Free Consultation
Looking for the best hair extensions salon in Tampa FL?
When you are searching online for Tampa hair extensions salons and best hair extensions in Tampa, you are certain to discover a lot of salons.  When evaluating a potential hair extensions salon, look at their hair extensions before and after pictures, read their reviews, see how much information they share with you up front.  Are they willing to give you a free consultation?
Hair Extensions Prices
"How much do hair extensions cost?" This is a common question we get over the phone, and the answer depends on many factors.  Hair extensions prices can range from a few hundred dollars to over one thousand dollars depending on the brand of hair extensions, the amount and length of hair extensions desired and the condition of your natural hair. We can propose different ways to work within your budget, depending on the look you are trying to achieve.  You may not need a full head of extensions, and we can add volume and length where you need it.  By suggesting different brands, or even just adding volume to certain areas so that you can achieve your desired look.
Meet Krista Abad, Master Hair Extensions Stylist at Monaco Hair Salon in Tampa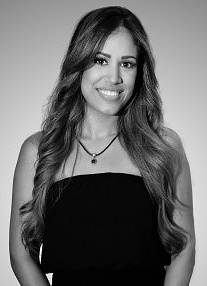 Krista has earned certifications with all of the top companies and has mastered all of the techniques currently available in the US.  She has personally worn all of the hair extension brands that we carry. The majority of the hair we use is 100% Remy, human hair from India and Europe…but again, every situation is unique and not one specific product is necessarily the best. Krista is trained and certified in the seamless application (and proper removal) of today's most popular hair extension brands and methods used in hair extensions salons all over the world today including:
Great Lengths Extensions
Socap USA Extensions
Hair Additionz Extensions
Short2Long Extensions
HairDreams Extensions (formerly HotHeads Hair Extensions)
Ultratress Extensions
Seamless Hair Extensions
Learn more about hair extensions by Krista, see some of her work and hear what her guests have to say.
Importance of a Certified Specialist
Having the right professional to apply your extensions is so important.  Not only will it assure a look that is seamless and blended into your existing cut and color, but also to eliminate ask risk of damage to the hair.  The same goes for the removal of your hair extensions.
If you are serious about hair extensions, ask your stylist for a complimentary consultation.  Your stylist should be willing to explain the options that will work best for your hair type and be able to give you a price for the service.  Your stylist should prepare you for how to care for, style and maintain your extensions.  An experienced stylist will have before and after pictures of their work, and written feedback from previous guests.  Ask them about their training and which certifications they have received.
If you are considering hair extensions in Tampa, Clearwater, Oldsmar, and Palm Harbor, do your homework.
Many of you visiting our site have probably researched the types of hair that are available and the different methods of application. The Internet has an abundance of information available for you to sift through and even more names of salons that are promising to be the "best" or the "official" hair extension salon; so we can understand the confusion that surrounds the broad topic of hair extensions and how difficult it can be to find an expert salon in the Palm Harbor, Tampa, Clearwater areas for your hair extensions.
Monaco Salon would like to be your "partner" when you are ready for hair extensions in Tampa, as it is going to take both of us to make the best possible experience.  Keep in mind…not one product is right for everyone. Our job is to investigate your needs and make sure your hair is right for extensions, THEN make suggestions. We will talk very openly about your budget and all of the time and expenses you can expect to have them put in, maintained and removed. Depending on whether you are adding length, fullness, colored highlights, or just dressing your hair up for a special occasion –or adding crystal strands, feathers, or bright accent pieces – the cost can vary greatly.
Blending and matching hair extensions to your hair color and highlights is an ART, one that most stylists have not mastered
The strand by strand method is the most popular and is used by top companies such as Great Lengths, Hair Dreams, and SoCap. Great Lengths has been called the Rolls Royce of hair extensions and has been worn by celebrities such as Cameron Diaz and Halle Barry. Our hair artists have invested much time traveling and training and are passionate and take pride in our work.
Learn More about Hair Extensions with these videos by Monaco Salon in Tampa