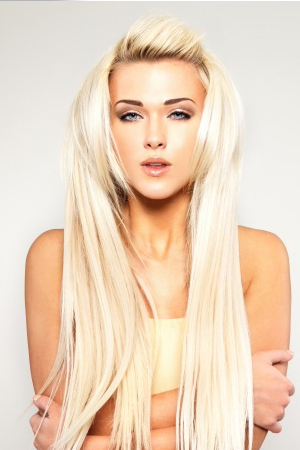 Finding your best shade of blonde hair is easy with a few simple tips.
With the days getting noticeably longer and spring just a few weeks away, now is the perfect time for you to start planning your transition to blonde hair…or blonder hair! Nothing beckons warm weather quite like blonde highlights. If you do not want to commit to an all over blonde, consider all your alternatives! Blonde highlights, balayage, and blonde ombre hair are great techniques to lighten hair without the shock value.
Blonde Hair Tip: Remember, the best blonde hair color is multidimensional to give depth and richness to your look. A large wash of blonde can be boring unless there are darker and lighter strands throughout your hair. When you talk to your stylist about blonde hair and which shade of blonde is best for you, keep an open mind if they suggest weaving three different shades throughout your hair, or suggest combining both blonde highlights and lowlights however subtle they may be.
Blonde Hair Tip: If you have dirty blonde hair, finding a shade between blonde and brown can be a beautiful compromise. Your stylist will use your natural skin tone as the guide to finding your best complementary shade of blonde. If you have warmth in your skin, go for a cool blonde, or if your skin has cool undertones, warm it up with a honey blonde or caramel blonde. Go for highlights and lowlights, keeping your darker blonde base but adding in some lighter blond for variation. This will give you a fresh, new look that you'll want year round.
Blonde Hair Tip: If you are going for a more edgy look, going platinum is a good way to make a statement. Be careful though, not everyone should be wearing platinum blonde hair. A way to keep it chic is by pairing a pixie cut with your statement color to keep your hair from looking overdone and washed out.
Fix my blonde hair!
If you find that your blond hair has gone too far, talk to your stylist about the best way to tone it down. Does your shade of blonde wash out your skin? Does your blonde hair color make you look tired? Hair color is as much a science as it is an art! Your stylist will give you an opinion from a "trained eye" and can offer suggestions on how to adjust your blonde hair so that your natural beauty shines through. For more on hair color services in Tampa, take a look at our hair color at Monaco Hair Salon.
And Monaco's team of stylists, along with our professional hair color system by Paul Mitchell, are ready to rock your blonde hair! Our colorists will work with you to ensure your color turns out just as you had hoped. When it comes to hair color expertise and blonde hair, Monaco Salon is the best salon in Tampa and we want to show you why. Now is the best time to make a reservation so we can get started on your new look.
Call us to book a reservation today. (813) 870-1709!