Recent Transformations with NBR Weft Extensions at Monaco Salon in Tampa
At Monaco Salon in Tampa, we have our own technique for the natural beaded row method, varied bead sizes and square wefts made from our own line of top quality human hair. And as a hair extensions salon, we apply hand tied wefts all day long! We have a lot of experience working with different hair types and the expertise to transform even the most challenging heads.
Slide the bar to reveal the amazing results.
Fullness with 8 inch Wefts
Before
After
Blonder and Fuller with Balayage Wefts
Before
After
22″ NBR Weft Extensions
Before
After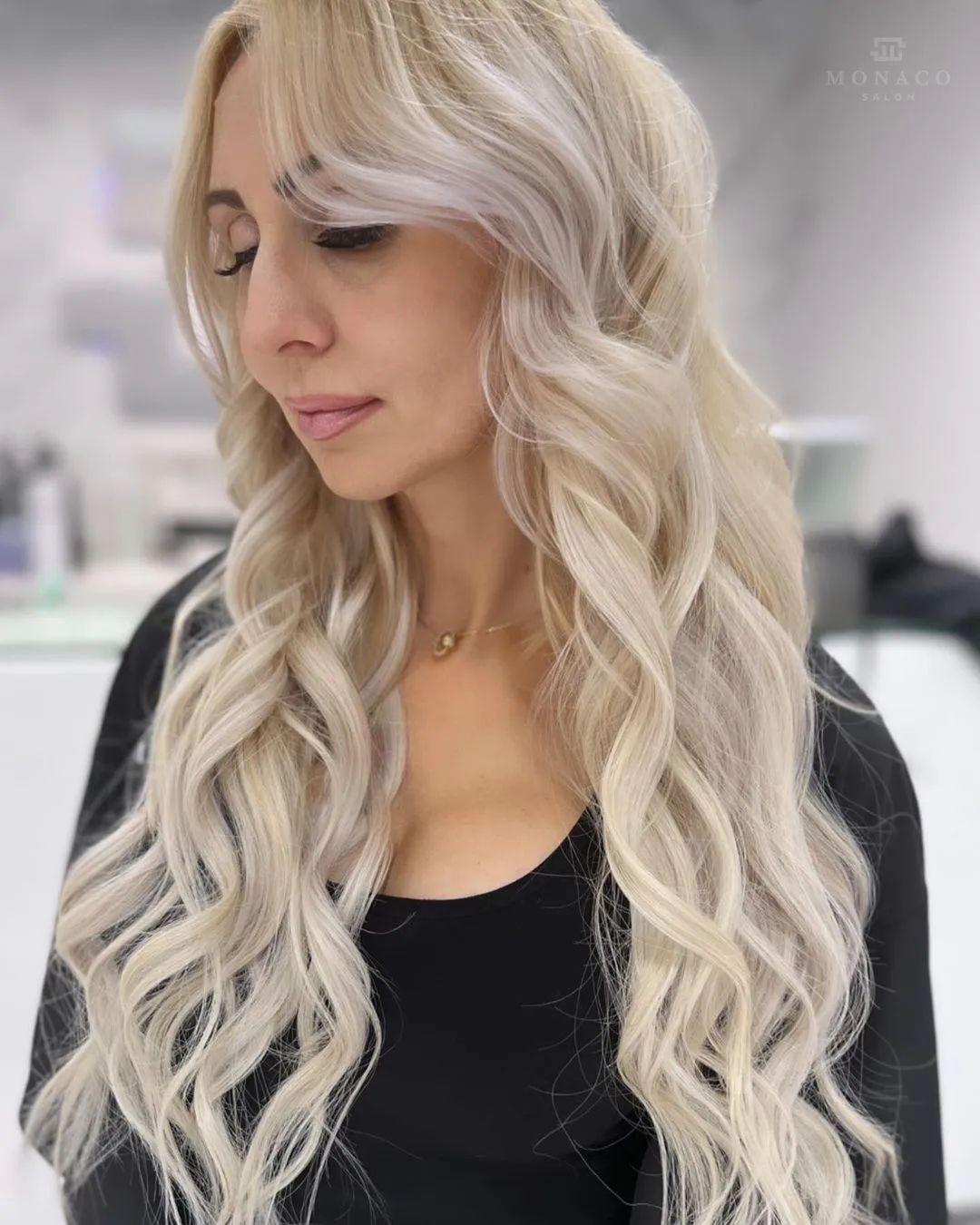 Shadow Root NBR Wefts
Before
After
Our NBR Weft Extensions at Monaco Salon are Different!
Natural beaded row hair extensions, also called sew in weft extensions or hand tied wefts, are in demand. They are lightweight, making them ideal for long lengths but come as short as 8 inches. So whether you want glorious length or plush volume, or maybe both, then weft extensions applied with the NBR or natural beaded row method could be exactly what your style needs!
Monaco's Hand Tied Weft Extensions are:
Elite quality human hair
Ideal for long lengths
Safely applied without heat or adhesive, minimal points of contact
Our beads vary in size so they stay invisible
Our unique square wefts prevent over flexing, no tender scalp!
Frequent Questions About Hand Tied Wefts/NBR Extensions
Sure, women are curious about how these sew-in extensions are applied and like to be reassured about their safety. But our clients know we would not be recommending or applying natural beaded row weft extensions if they were not totally safe for THEIR hair. In fact, with the beaded row method, the attachments have the least amount of contact with your natural hair. You can learn more about Monaco's hand tied wefts with our unique natural beaded row application here.
When it comes to hand tied weft extensions, most women want answers to some very practical questions:
How long will I sit in the chair?
The sew in application of hand tied weft extensions using a natural beaded row or NBR method takes less time than you might think. First a pre-strung row of tiny beads is attached to your hair. Then wefts of hair are sewn on each beaded using a needle and nylon thread. The process moves pretty quickly and because we are a hair extensions salon, we get a lot of practice so we're quite efficient with our technique. The length of your appointment will depend on how many rows we'll be installing and if you're getting any custom color. The average hand tied weft installation takes between 2-3 hours.
Can I wear my hair up?
Women who wear hair extensions want the option to wear their hair up without worrying about exposing their attachments. This is a reasonable request! When we developed our own line of wefts for NBR extensions, we insisted on multiple bead sizes. Many brands use a one size fits all approach, but we find that with different bead sizes, we can customize your application to not only the area of the head but also your hair type. If you have fine hair, we'll use the smallest bead size all over your head so that when you want to wear you hair up, you don't reveal beads, bumps or bulges.
Will my weft extensions feel heavy or tight?
If you are adding a ton of length and volume, you may notice a difference but only in a good way! Your hair shouldn't feel heavy. Our hair is lightweight, after all it is human hair, and the attachments consist of tiny beads and thread. If applied correctly, you should not feel heaviness or tightness. With Monaco's hand tied wefts, you won't get that tenderness and tightness those first few days, which is common with other weft extensions. We designed our wefts to have a square base. This allows for a very gentle application because it avoids over directing and flexing the hair either vertically or horizontally when attaching it to the bead. We don't want the bead to tug on your hair/scalp and cause discomfort.
Book a Free Hair Extensions Consultation at Monaco Salon in Tampa
Learn more about what hand tied weft extensions can do for your style. Get started with a free hair extensions consultation. We'll assess your hair, talk about your desired style and give you an idea how much your installation might cost. Please schedule a free virtual consultation by Zoom or FaceTime using the online scheduler below.
Learn More About Our Consultations
NBR Extension Salons Near Me
Tampa
South Tampa
Downtown Tampa
Clearwater
St. Petersburg
St. Pete.