The Best Hair Extensions at Monaco Salon in Tampa.
These hair extensions were applied, cut and styled by our Monaco Salon Artists!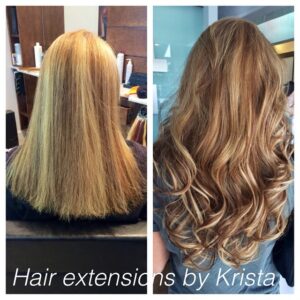 Hair extensions will completely transform how you look and feel about yourself
Add instant length
Introduce body and volume where you need it
Conceal thinning hair
Add excitement with colored or textured hair extensions
Give your confidence level a complete overhaul!
And because hair extensions look so completely natural, no one should be able to tell you are wearing them.
Have fun with color with Hair Extensions!
Make sure you use a certified hair extensions specialist!
Your hair is your pride and joy. When it comes to hair extensions, don't trust just anyone. Make sure you find an experienced technician who is certified and trained in the proper application, styling and removal of hair extensions. When applied properly, hair extensions are perfectly safe for your hair and scalp. At Monaco Extensions Salon in Tampa, our certified hair extensions specialists have over 12 years of experience. We'll make sure your hair extensions look great, so we'll walk you through all of your options, suggest which types of hair extensions are best suited for your hair, and offer suggestions on styles and colors.
You'll get the best hair extensions at Monaco Salon in Tampa!
At Monaco Hair Salon, we don't believe in off-the-rack, cookie-cutter hair styles and that includes styles with hair extensions. The looks that we create with hair extensions are as unique as you are. We offer a wide variety of types of extensions, endless colors and textures, as well as many different application methods. During your initial complimentary consultation, we will help you determine the right extensions for your lifestyle.
You get a one-of-a-kind solution, customized for your needs
Your extensions are matched to a sample of your own hair, so the color, texture and wave pattern blend perfectly
With our 100% human hair extensions, your hair can be styled any way you want
Your hair is cut and styled along with your extensions to ensure seamless integration
Available in straight, wavy or curly
No Damage to your hair
Lasts 4 to 6 months
Ask About Credentials
If you are serious about hair extensions, ask a lot of questions. An experienced stylist will have before and after pictures of their hair extensions work, and written feedback from previous guests. Ask them about their training and which certifications they have received. Your stylist should be willing to explain the options that will work best for your hair type and be able to give you a price for the service. Your stylist should prepare you for how to care for, style and maintain your extensions once you leave the salon.
Request a Complimentary Consultation
At Monaco Salon, we offer a complimentary consultation so that you can talk to one of our artists about the look you want. We'll answer all of your questions, evaluate the condition of your hair, and determine the best type of extensions to suit your look, your style and your budget. We will color match your hair or order a special shade for you if necessary. We'll design that "Star Look" that fits your face, accentuates the eyes and compliments your skin tone. Free Hair Extensions Consultation.
Hair Extensions Reviews - what Monaco Salon Guests Say!
When you are searching online for Tampa hair extensions salons and best hair extensions in Tampa, you are certain to discover a lot of salons. When evaluating a potential hair extensions salon, look at their hair extensions before and after pictures, read their reviews, see how much information they share with you up front.
60
reviews with an average rating of
5.0
Dec 14, 2017 by
Paige Jagel
Jul 18, 2017 by
Tammy Gail
Jan 16, 2018 by
Chelsea Rodawalt
Sep 16, 2015 by
Renae Hessler
Aug 17, 2017 by
Jason Dana Dimsdale
COMMON QUESTIONS ABOUT HAIR EXTENSIONS
How much do hair extensions cost?
This is a common question we get over the phone, and the answer depends on many factors. Hair extensions prices can range from a few hundred dollars to over one thousand dollars depending on the brand of hair extensions, the amount and length of hair extensions desired and the condition of your natural hair. We can propose different ways to work within your budget, depending on the look you are trying to achieve. You may not need a full head of extensions, and we can add volume and length where you need it. By suggesting different brands, or even just adding volume to certain areas so that you can achieve your desired look.
What types of extensions do you offer?
The majority of the hair we use is 100% Remy, human hair from India and Europe…but again, every situation is unique and not one specific product is necessarily the best. We are certified in the application (and removal) of today's most popular hair extension brands and methods used in hair extensions salons all over the world today including:
Great Lengths Extensions
HairDreams Extensions
Monaco In-House Hair Extensions
Short2Long Extensions
Ultratress Extensions
Learn More about the Best Hair Extensions by Monaco Salon in Tampa
Great Lengths Hair Extensions Application and Removal
Hair Dreams Hair Extensions Application and Removal
Learn more about Monaco Salon's Own Hair Extensions