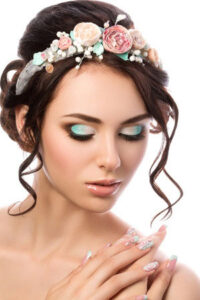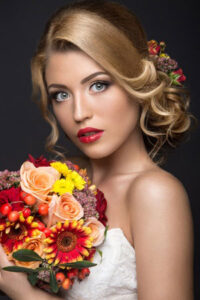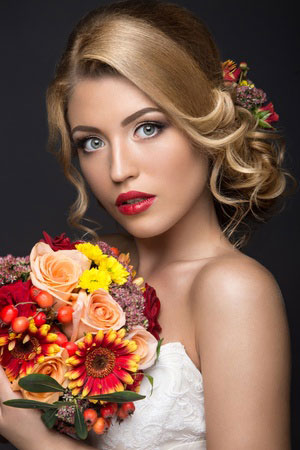 Every bride dreams of how she'll look on her wedding day. Choosing the perfect look is easier said than done. With so many choices for wedding hairstyles, how can a bride just pick one? A bride has to consider a hairstyle that will look great on her, will look great in photos, will match the wedding dress and yet be a style that will be able to last the entire day. So which of the wedding hairstyles is best for you?
Wedding Hairstyles with an Updo
The classic updo is the most common of all the wedding hairstyles. However, some women feel like it's too traditional and there are some updo styles that are overdone. Talk to your hairdresser about your updo options as there are so many styles to choose from nowadays.
The best thing about the updo is that it holds its shape all day and looks great in photos. The only worry with updos is that it can look boring in the front and tends to be heavy for people with thick and long hair.
Wedding Hairstyles with all hair down
Having all hair down is a gorgeous wedding hairstyle option especially if you have long hair. It's very comfortable and not heavy at all. However, having your hair down is risky because it's nearly impossible to keep its shape and form. Be prepared to keep touching it up to help your hair stay in place.
Wedding Hairstyles with with a Half Updo
With the half updo bridal hair, you get the best of both worlds. You get to secure half of your hair with pins and then keep half of the hair loose. Well, with the half updo, there's always a risk. The upper half can hold its shape but the bottom part may get messy.
If you're not comfortable with all hair down nor the complete updo, then you should feel more comfortable with the half updo. But, do be sure that this style looks great on you. Some women's faces look bigger with this style.
Wedding Hairstyles and Bridal Services at Monaco Salon
To know the best bridal hairstyle that will be perfect for you, do a test run with a stylist at Monaco Salon in Tampa. Test out each style and see what looks best. Learn more about Monaco Salon's Wedding Hairstyles and bridal services.